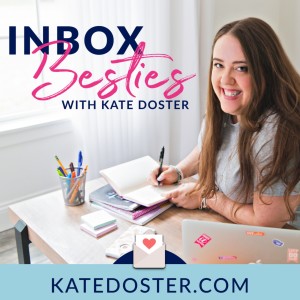 Wednesday Apr 14, 2021
Web Design Strategies to Skyrocket Your Conversion Rates w/ Elizabeth McCravy | 176
In this week's episode of Inbox Besties I sit down with Elizabeth McCravy and we talk about how to make a website that not only gets you the conversion rates you want but is also looks darn good.
//Elizabeth McCravy's Bio
Elizabeth McCravy believes that smart strategy combined with plenty of personality leads to a thriving business. As a web designer, podcast host, and business coach, she spends her days designing gorgeous, strategic website templates from her home in Nashville and shares all her business strategy tips and tricks on her show – the Breakthrough Brand Podcast.
She's helped over 700 business owners highlight their value and show off their skills through her library of beautifully designed and easily customizable website templates, and she's on a mission to help every entrepreneur create a strategic, personality-filled website.
Elizabeth is a Showit Top Designer and a go-to resource for the online business community. When she's not teaching or designing, you can find her bingeing Law and Order: SVU, putting her certified yoga-teacher skills to work, or nose-deep in the latest mystery novel. 
// Elizabeth McCravy's Contacts
// Elizabeth McCravy's Freebie
// Our Tool Of Week
 50 word-for-word email templates proven to propel open rates, clicks & sales while slashing your writing time in half, even if you don't bleed the alphabet with the Email Marketing Fairy
// Get Credit For Listening
Tag me in your Instagram Stories @kate_doster 
// Free Stuff For You
[ Free Audio Book ] From Audible 
// Let's Connect
Email | kate@katedoster.com
Questions For the Podcast| https://www.katedoster.com/ask
Blog | https://www.katedoster.com/blog - This weeks post HERE
Instagram | https://www.instagram.com/kate_doster/
Pinterest | https://www.pinterest.com/thekatedoster/
Facebook | https://www.facebook.com/katedostercommunications/
Comments (0)
To leave or reply to comments, please download free Podbean or